Attention Customers:
Due to our large backlog of orders, we are not currently taking new orders.
We will continue to sell and have available new custom helmets, so please check for new lids available for purchase.
To place an order, download the helmet order form and send with helmet.
For an estimate call
Rachel: 253-988-0247
or
Billy (best to call evenings or weekends): 253-241-0743

or email:  hellmutts@hotmail.com

We accept paypal,
Mastercard or Visa over the phone, and
checks or money orders
(if you pay via personal check we will wait to ship back your helmet until payment has cleared)
Our current turn around time is approximately 6-8 months  from the time we receive your helmet.
Ship your helmet to:
Hell Mutts
802 South Mason Ave. 
Tacoma,WA 98405 
Please email us when you have shipped out your helmet.   
We do ship worldwide, contact us for international shipping quotes.
Thanks,
Billy & Rachel
**Disclaimer** Vintage helmets are not compliant with current DOT standards.  New liners do not make your helmet any safer, it just makes them look cooler!  But your new liner will stop the nasty black dandruff which all old helmets seem to have!  All vintage helmets are considered "novelty" helmets.  Any modifications to a DOT helmet (including paint) is considered to render the helmet non-DOT legal.
3/4 Liner using original interior Styrofoam "safety" shell starts at $85.00
3/4 "one-size-fits-all" liner using new high density foam in place of original Styrofoam starts at $125
We are able to make a custom patch for the crown piece for an additional $25.00.  Please check with us first prior to shipping.
Full Face Liner using original interior styrofoam "safety" shell starts at $100.00

MOTO 3's start at $125
Full Face "one-size-fits-all" liner using new high density foam in place of original styrofoam starts at $150
Tuck & Roll add $15
Diamond Tuck add $30
Italian Lambskin Leather liners start at $150 for 3/4 and $175 for full face
(As Shown $225 not including AF20 straps)
Custom layouts (prices vary, call for quotes)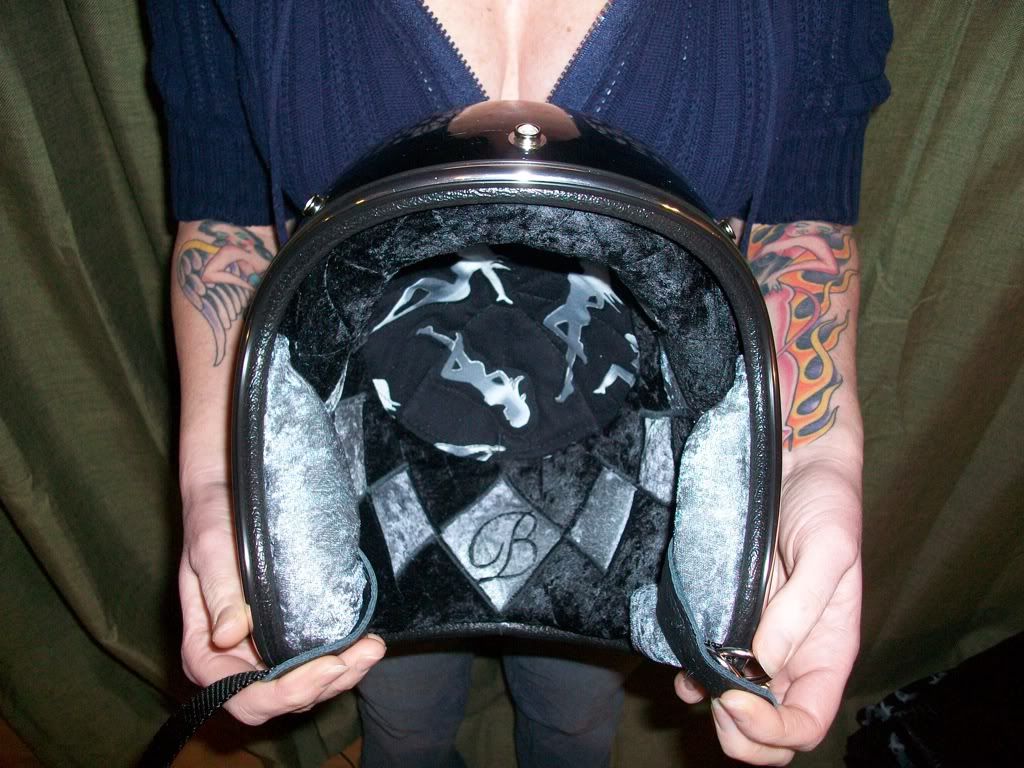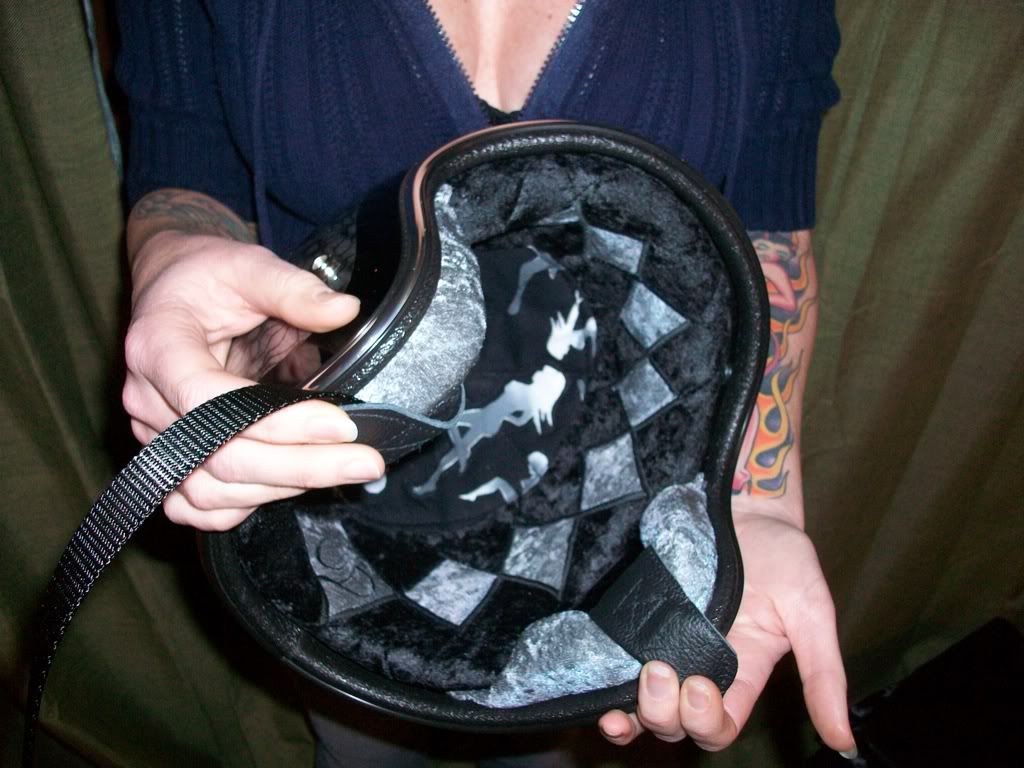 Custom embroidery: $20 (price may vary depending on layout of the embroidery)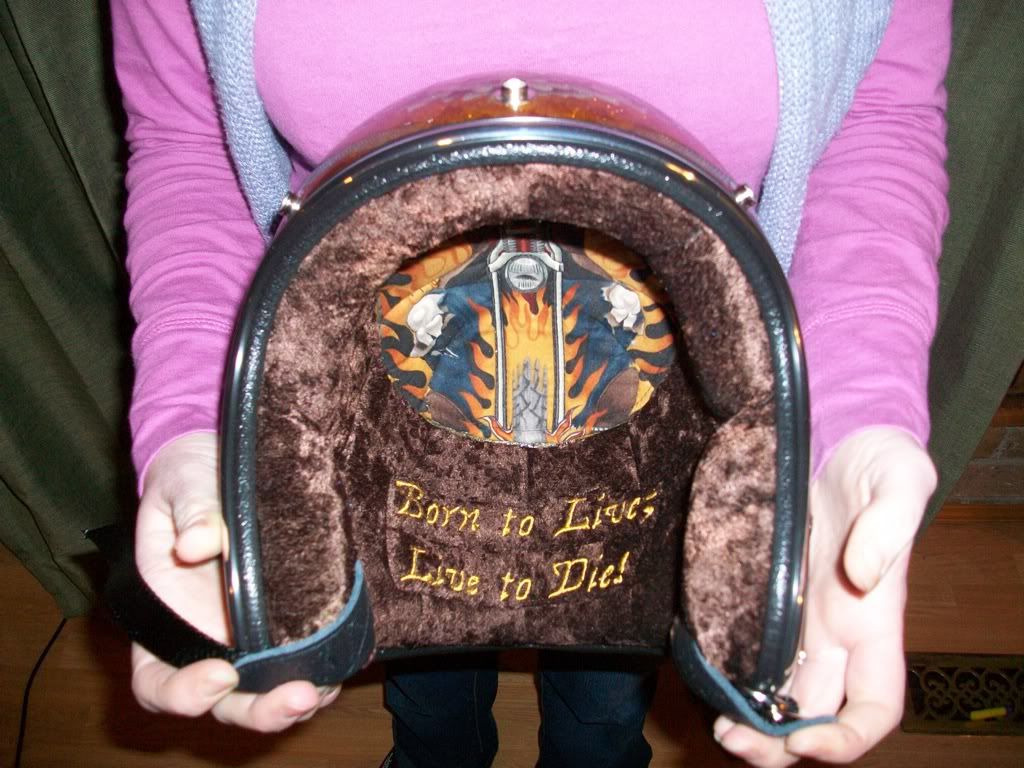 New traditional style leather wrapped Straps & D-Rings (Chrome) $25.00 
AF style straps are $40
Purchase a la cart
New Black Trim (3/4) $10.00
(Full Face) $15
 New Chrome Trim (3/4) $15.00
(Full Face) $20
SDS (Scumbag Deterrent System)  $5.00
New Snaps only (Chrome) $5.00
Rebuild missing chin area on face face $20
 New Straps, D-rings, & Snaps (Brass) $35.00
 Neck Roll $20
 New Snaps only (Brass) $10.00
New Goggle Strap $5.00
No Slap Strap Snap $2.00